CMRC – Waste Concrete Recycling Plants
There are different types of waste concrete recycling plants and each one has critical issues that we believe to have completely solved by CMRC solution proposed here by CM. By CMRC technology we have a first stage consisting of a powerful vibrating sieve which completely separates and washes the aggregates discharging them onto a belt which transports them to the accumulation point and subsequent picking up by loading shovel.
The water mixed with cement and sand which has washed away the aggregate is conveyed into a storage tank – 4x6x3.5Hm – located below the vibrating screen and equipped with:
N.1 Submersible pump for sending the waste water to the filter press;
N.1 Submersible pump for sending waste water to the pipes for washing concrete mixers;
N.2 Electrostirrers to inhibit the binder setting reactions in the waste water.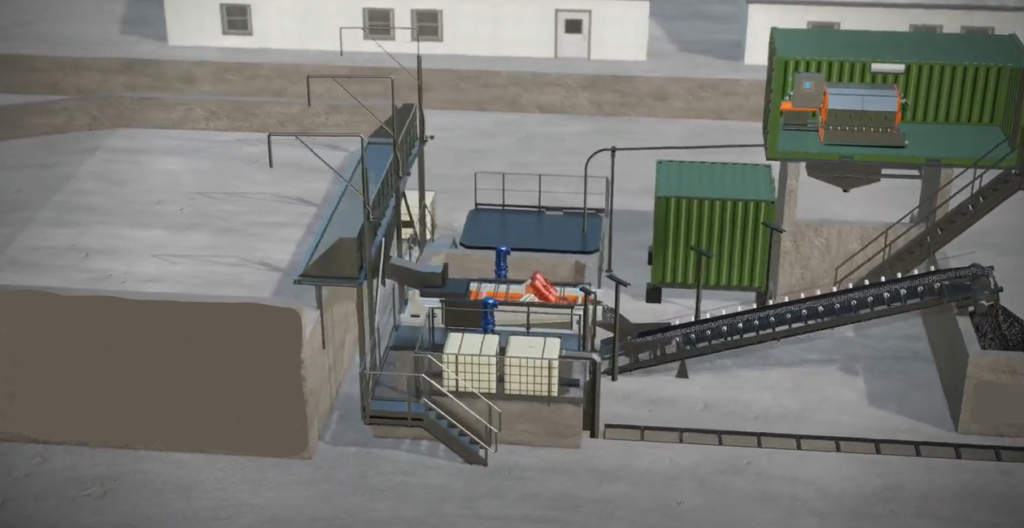 Then there is a second stage of the process consisting of a Filter Press which, through a solid-liquid separating action, dehydrates the sludge from the waste water, returning at the same time clarified water and fine aggregate mixed with cement paste which can be immediately reused in the production cycle of the batching plant.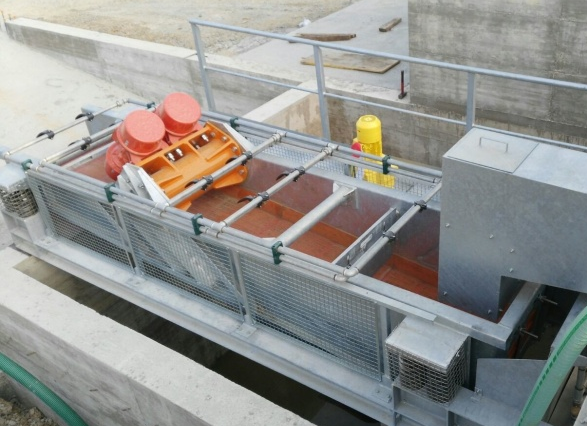 The Vibrating Screener has a volumetric production of 30m3/h and is fitted with n.2 vibrators of 5kW each, has a loading hopper of 3m3, 3m long, 2m wide with a bed in polyurethane mesh and at the top a series of spray nozzles optimized for washing away the inert subjected to the vibration process.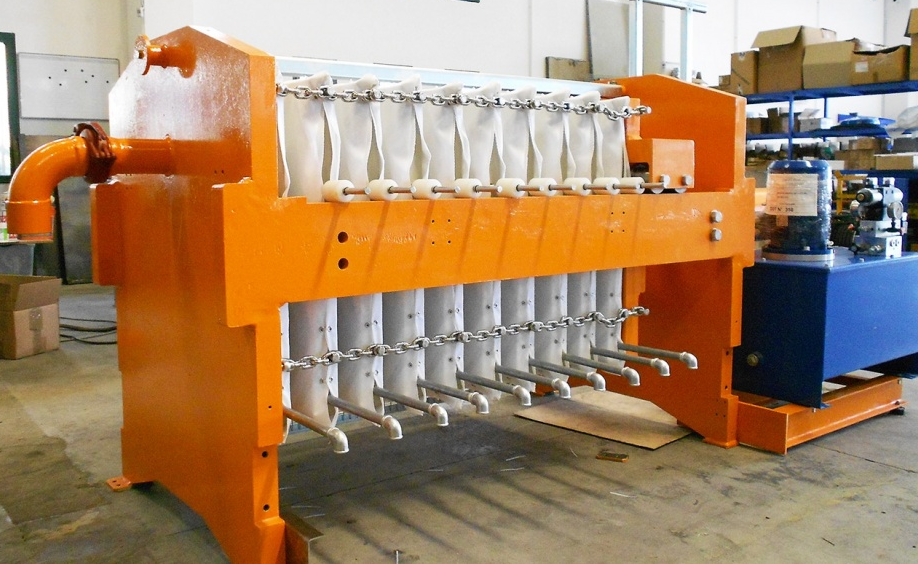 The Filter Press consists of a group of n.10 80cm square plates, n.20 support and sliding wheels in polyethylene with easy sliding, n.1 hydraulic pump with 5.5kW motor, 120 litre tank, 250bar service pressure , n.1 automatic shaking system for the detachment and precipitation of dehydrated sludge, filtering capacity 9,000 l/h, electricity consumption 15kW/h, automatic washing system.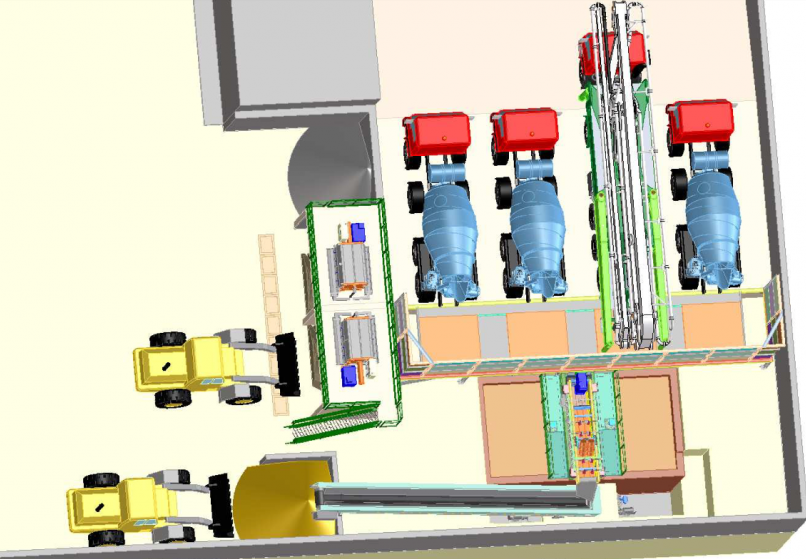 By
CMRC
technology, the waste concrete recycling plant can be expanded in modules to be adapted to the number of truck mixers and truck pumps to be served.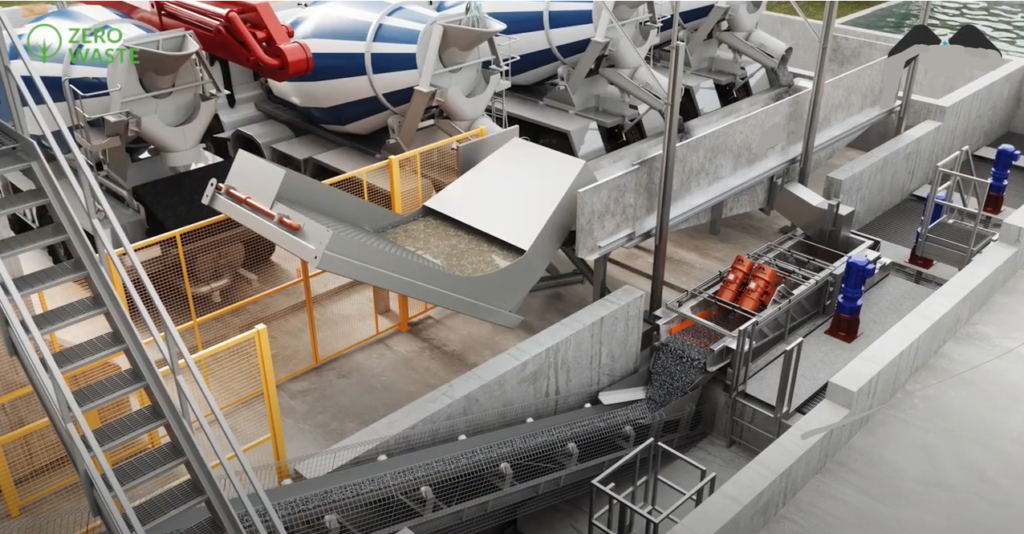 The waste concrete receiving manifold is fed with recovered water to facilitate the descent to the conveyor towards the vibrating screen. All carpentry is supplied in galvanized execution.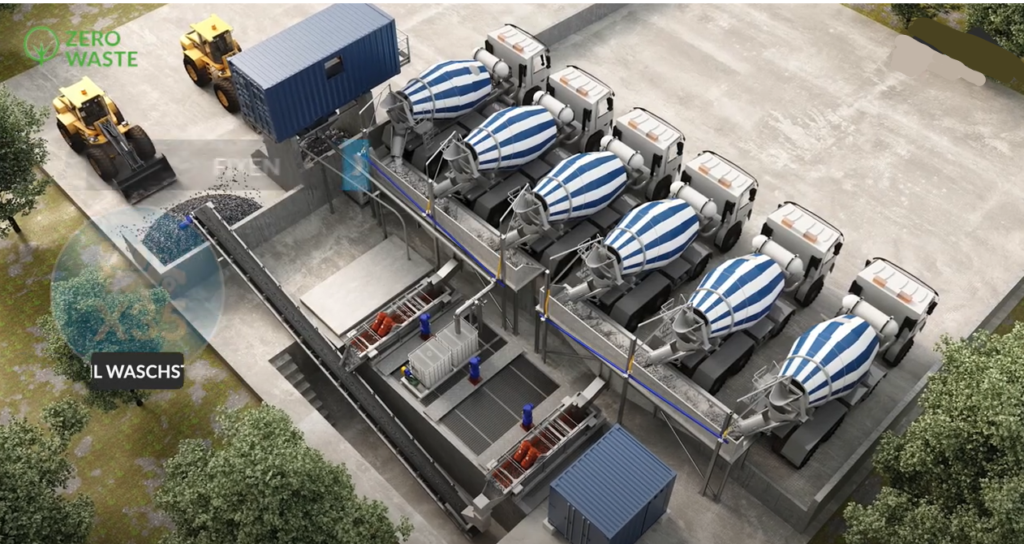 The planimetric configuration of the CMRC plant can be easily adapted to the geometry available on the customer's work site and on request we can also supply above-ground tanks in galvanized metal for the storage and agitation of waste water.