SKIP – for aggregate lifting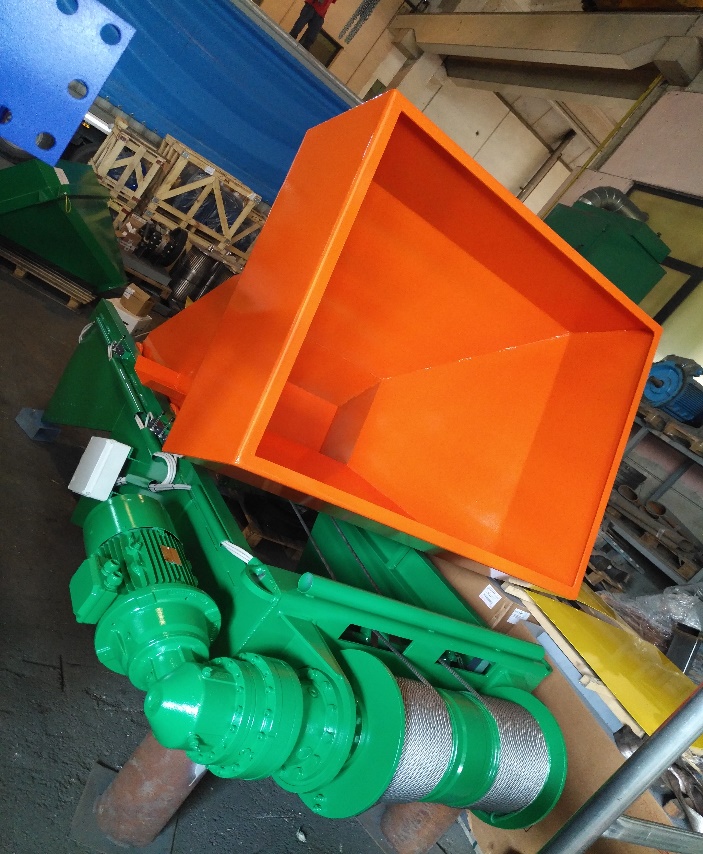 Each type of our mixers can be supplied with the SKIP aggregate lifting system and automatic opening of the aggregate entrance door into the mixing tank. For all sizes, the lifting system is performed with a double-wrapped grooved drum and a pulling system with 2 independent ropes. With this technology, the risk of the bucket falling in case of breakage of one of the two ropes is avoided. The bucket door opens and closes automatically by means of specific kinematic constraints which guarantee perfect repetition of the aggregates feeding batches into the mixer.
The transmission for all SKIPs is performed by means of efficient planetary gearboxes whose inlet can be chosen if in line or perpendicular to the axis of the drum in order to reduce, when useful, the transversal encumbrance at height of the application.
For larger size mixers, when high speed ascent for the bucket is required, it is possible to carry out the transmission by means of 2 opposing gearmotors thus avoiding the use of high power motors with a shorter useful life due to the limit to the number of starts per hour (especially when the application cycle also includes waiting for pre-unloading at height).
TRANSMISSION AND DRUM SUPPORTS
The support and attachment seats of both the reducer and the idle side of the drum are made machined in order to have the guarantee of perfect axial functioning of the reducer-flange-wheel-drum GROUP.
The bucket-rope connection is performed without a return pulley, this expedient, together with the winding on the drum exclusively within grooves, allows the ropes to have a long life because they do not have to withstand the wearing action due to the specific pressure that is generated in the bottom of the pulley groove at each lifting cycle.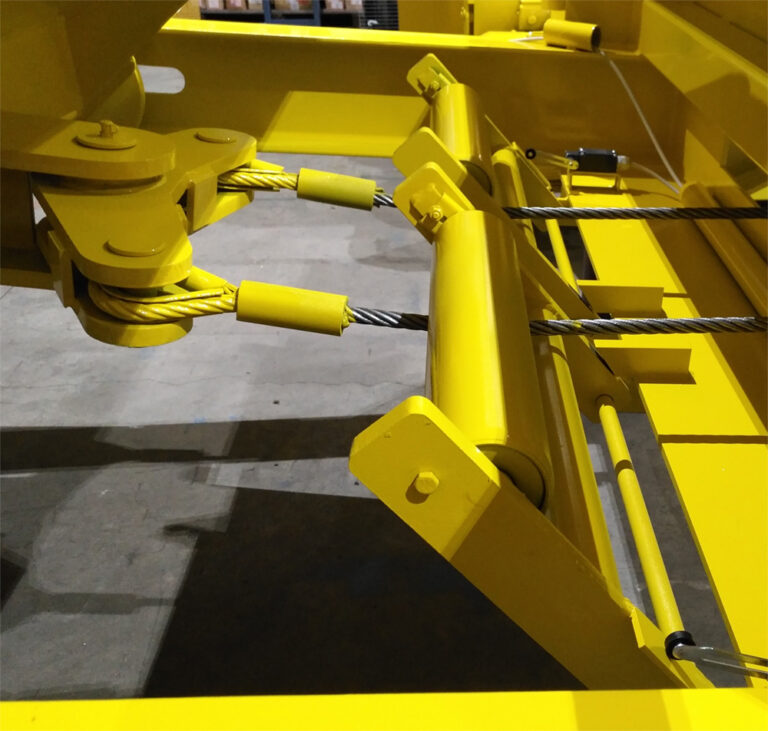 In the event that one of the two ropes breaks or the bucket can stop for some reason along the downhill journey or does not reach the lower load position (e.g. due to the presence of aggregate accumulated on the bottom of the hole or in the parking area below the load) an alarm is automatically triggered by the appropriate switch activated by a pendular device with feeler rollers.
POSITION SWITCHES AND WIRING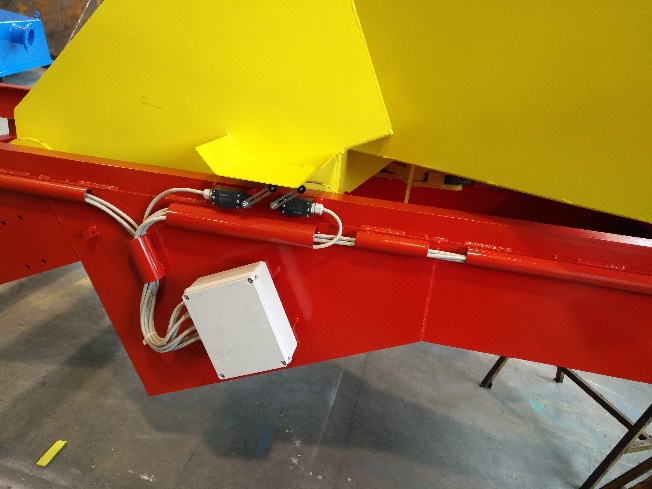 All the auxiliary circuits are pre-wired as standard up to a junction box located on the underside of the Skip head. N.8 limit switches are fitted for the following bucket positions and functions:
End of stroke down to reach the loading position;
Bucket passage control station before and after bottom loading;
Bucket waiting before unloading;
Bucket stopped upstroke for unloading in the mixer;
N.2 Bucket emergencies in ascent due to failure of unloading stop operation;
N.2 Slack rope alarm.